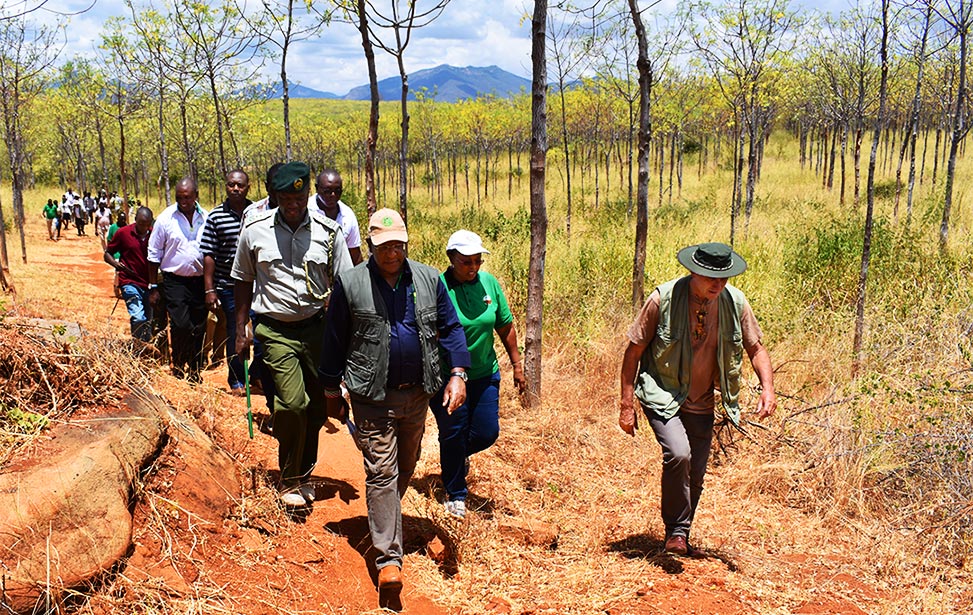 Kiambere
Jan Vandenabeele (Executive Director of Better Globe Forestry Ltd.)
On February 22 2019, Better Globe Forestry was proud to host a delegation of representatives at its Kiambere plantation, headed by the Cabinet Secretary for Environment and Forestry, Hon. Keriako Tobiko. Also present were Dr. Jane Njuguna, Agricultural Director of the Kenya Forestry Research Institute (KEFRI), as well as other leaders and researchers of KEFRI; representatives from Kenya Forest Service (Dr. Clement Ng'oriareng, head of the Dryland Department, Alfred Gichu, coordinator of REDD+ readiness activities, and the ecosystem conservators of Kitui and Embu Counties); Samuel Kareithi (Programme Director Gatsby Africa); and the Assistant County Commissioner for Kitui County.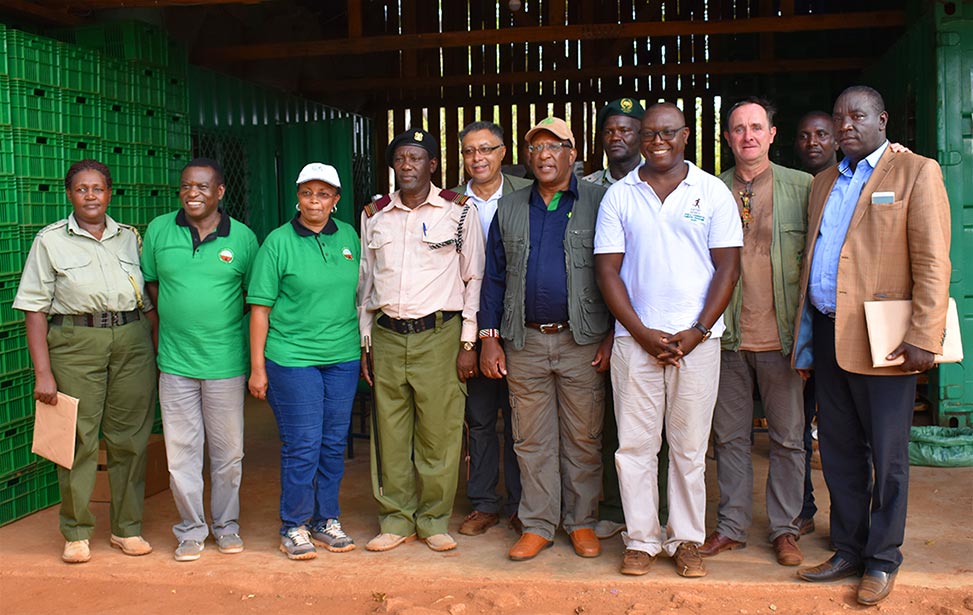 Group photo of representatives visiting Kiambere plantation, with Cabinet Secretary Hon. Keriako Tobiko (brown hat)

Photo courtesy: Better Globe Forestry
The intention of the visit was to show the cabinet secretary that commercial dryland afforestation in Kenya is possible, existing, and subject to wider application, using the plantation as proof. This carried a crucial message, as the Kenyan Government wants to achieve a 10 percent tree cover by 2022, and increase of the current 7.2 percent, and the only wide available spaces are in drylands, which are not traditionally considered suitable for tree planting.
In his opening words, the managing director of Better Globe Forestry (Jean-Paul Deprins) explained the company's vision of poverty alleviation, underpinned by sustainable commercial tree planting, with the later promise of establishment of a processing industry. He highlighted the cooperation with stakeholders such as KEFRI, thereby providing scientific evidence for a pioneering effort.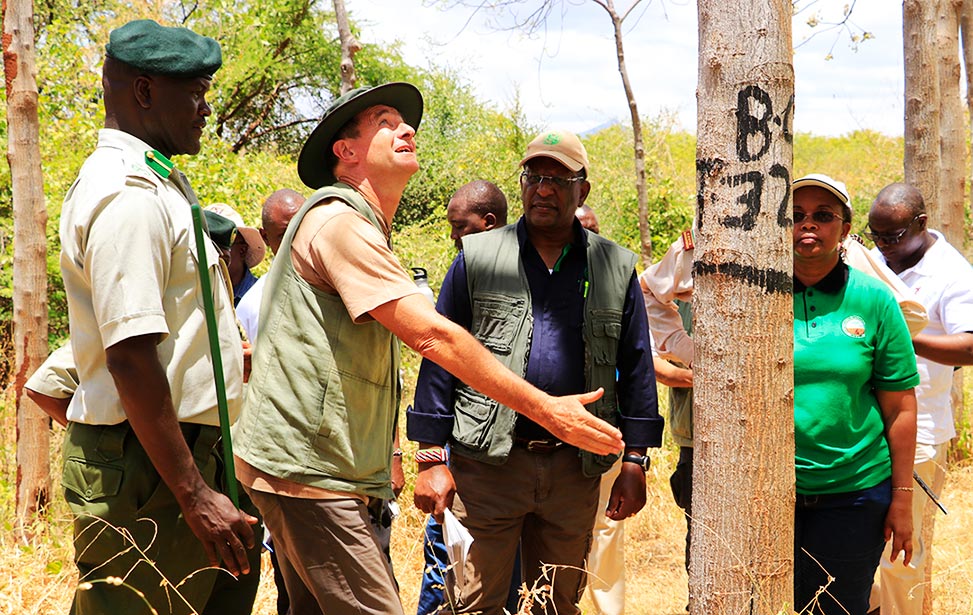 Better Globe Forestry's Jan Vandenabeele explaining the management of melia trees in the plantation

Photo courtesy: Better Globe Forestry
Better Globe Forestry guided the cabinet secretary through the different stands of Melia volkensii (mukau) and its trial plantation of Acacia senegal (gum Arabic acacia) and explained the cooperation with KEFRI which had been instrumental in getting the results off the ground. Better Globe Forestry underlined the fact that its intervention was not limited to plantation establishment, but also involved thousands of farmers, and planting trees in their fields in an agroforestry layout. To date, over 4,500 farmers in Kenya have signed a contract that guarantees them training and a market for their logs, and over 700,000 mukau seedlings have been distributed to them. In addition to these efforts, Better Globe Forestry has engaged with a microcredit provider, K-Rep Fedha Services Ltd, to provide financial services to farmer communities.
The cabinet secretary interacted with various representatives during the visit and also addressed the press. He made the distinction between tree planting for conservation and for commercial purposes, and was also aware that farmers need a market stimulus to engage in the wide-scale planting of trees, which requires serious commitment in the difficult conditions prevailing in dry areas. From the government side, he ensured its goodwill, and recommended that the plantation be used as an example for the different county governments situated in drylands to come and see for themselves, all in the framework of achieving the government's 10 percent tree cover goal. The government's role in providing movement permits for an indigenous species like mukau was discussed, in order to provide legality in a sometimes-controversial discussion about conservation and exploitation.
This was a great day for dryland afforestation, which truly has its rightful place under the sun.
Post a Comment