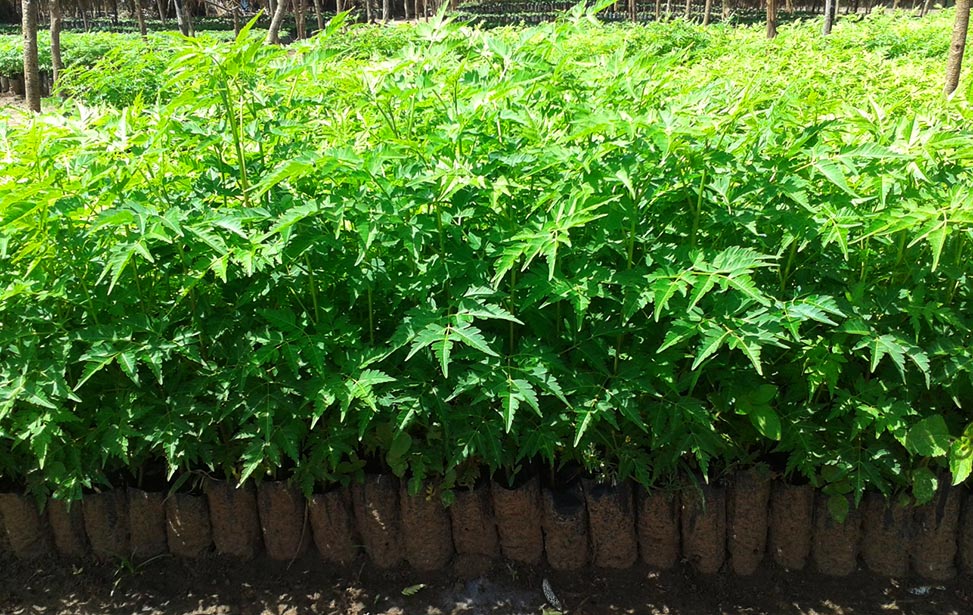 Jan-Tore Øvrevik
Nov. 29, 2018
Mirror Review depicts achievements of companies and entrepreneurs and sheds light on innovations they are carrying to disrupt the current market scenario. Doing so, they picked Better Globe Forestry among the 20 Most Admired Companies of 2018.
Getting Results for Poverty-stricken People of Africa
No one had ever tried to make use of non-productive land, like the arid, semi-arid land (ASAL) for growing higher quality wood in Africa until Better Globe Forestry started their pioneering project 14 years ago (2004). The company has approximately 250,000 acres (1,000 km2) of land available for tree planting through plantations in Kiambere, Nyongoro and Sosoma in Kenya, and runs a 45-acre (0.18 km2) test and training farm in Kibwezi for trees and agriculture projects. Better Globe Forestry has several hundred local workers employed, which is very beneficial for the local community. The company runs a quality management system for the environment in accordance with the ISO 14001 standard and conduct Environmental Impact Assessment and Feasibility studies for their plantations. Better Globe Forestry Ltd has won several awards for their work in East Africa and is already the most respected forestry company in Kenya.
As approximately 70% of the people living in Africa are small hold farmers, they live from what their little land can produce. Moreover, there is no sustainability in small farming as the farmers live from season to season and depend on the weather to be successful. Better Globe Forestry therefore started a program to teach and help farmers to plant trees in addition to their regular cash crop, so they could become self-sustained long term. To date, 12,500 "Partner Farmers" from Kenya and Uganda are enrolled in the program.
Tree planting is the business engine behind the whole concept, where everybody can make money, from the ones who plant the trees to the ones who finance it. Better Globe Forestry is the only company throughout the globe, which after 14 years of running a "pilot project", guarantees of delivering its committed promises when it comes to getting results for poverty-stricken people of Africa, and to prove that money is not wasted rather utilized for a noble cause. The Chairman of Better Globe Forestry, Rino Solberg, who holds vast years of experience in passionately working on humanitarian activities, says that if given a humble chance, he would provide honest and transparent avenues and roadmaps to help eradicate poverty and corruption in Africa.
Governmental use of Money to Invest in Causes for Environmental Benefits
If a government spends Euro 100 million for preventing the rain forest from being cut in Brazil, Indonesia or Africa, there exists no guarantees to control that the trees won't be cut. It has very little effect on the climate and it gives no return of investment back to the government that spends the money.
Even if the trees are cut-down and used for building houses and furniture, the carbon remains intact in the wood, so the impact of capturing CO2 is therefore missed. Hence, it is better for the environment to plant new trees, if one wants to capture CO2, even though there are other environmental benefits to save rain forests in general.
A government who would invest Euro 100 million in Better Globe Forestry to buy 1,886,792 donation packages would have tremendous bigger effects:
3,773,585 mahogany trees would be given to impoverished farmers as a relief to eradicate their poverty.
Moreover, Euro 2,830,188 would be allotted as microfinance loans to impoverished families, helping to eradicate poverty of up to 50 thousand families in Africa.
Euro 2,830,188 would be given to Child Africa to build schools and educate children, and to teach children how to fight and resist corruption.
Lastly, 943,397,500 liters water would be given to poor families of farmers in the drylands of Africa.
In addition to all the greater good above, the government would also receive 3,773,585 mahogany trees, which they own for 15 years, until Better Globe Forestry buys them back in year 15 at a price equal to Euro 377,358,500. The government would get 3.7 times their investment back, would support ten-thousands of families and children, and would have a huge impact on capturing CO2 during the whole growth period of the trees, (approx. 377,358,500 ton of CO2).
Overall, this possess as a winning deal for the Government, the supported poor farmers and children in Africa, along with a huge win for the environment.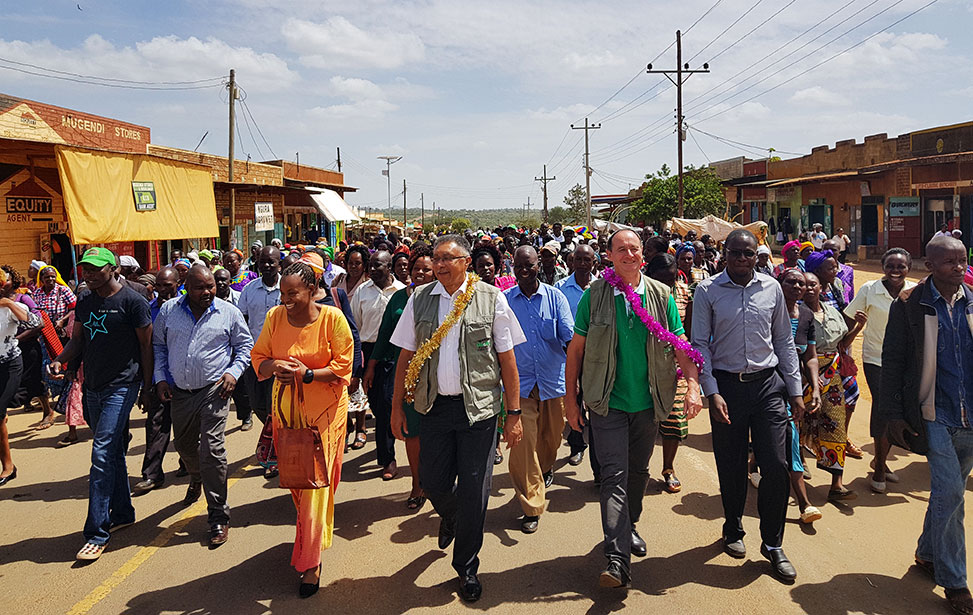 Image from our second microfinance bank that was launched at the end of 2017 in Kamuwongo, a remote village in Mwingi district in the drylands of Eastern Kenya. The celebration was led by Better Globe Forestry's Managing Director, Jean-Paul Deprins and Executive Director of Forestry, Jan Vandenabeele, and Emma Kimani, the director of K-Rep Fedha Services Ltd (KFS). The launch was graced by over 600 local residents of Kamuwongo, all living in an area whose residents are poor and facing challenges such as joblessness, illiteracy, poor health-care facilities, lack of water, and Climate Change.
Client Loyalty Savings Program
Better Globe Forestry has developed different ways to involve values for the buyers of trees and donations, so the company can continue with its mission in Africa to eradicate poverty through social entrepreneurship. One of the projects created is Trees4RealEstate where both the buyer and seller of the real estate receive 20% each of the real estate price after 15 years. The real estate seller pays 4% of the real estate price to buy mahogany trees. In year 15, Better Globe Forestry buys the trees back at a price that equals 40% of the real estate price. That is a ten-times increase of investment, which is split between buyer and seller. Another project is Trees4Cars, which works the same way, just that it involved buying or selling a car.
The third project worth mentioning is Trees4Shopping. The company partners up with one or more larger online shops where all customers will save 25% of everything they purchase through the shop. Spend Euro 10,000 in the store and receive Euro 2,500 back in year 15.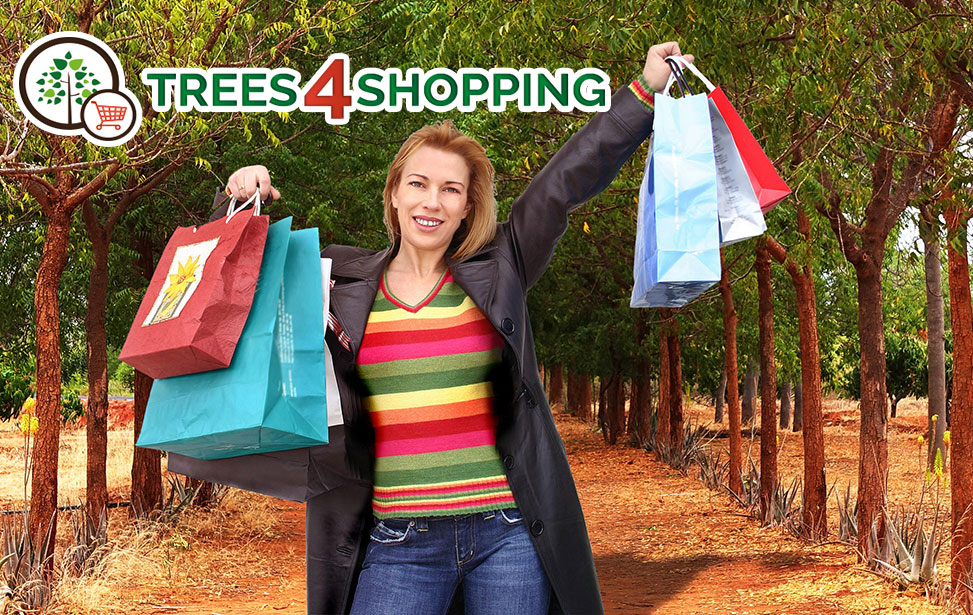 "Save 25% on Everything — Always"

Trees4Shopping
Over the next decade, Better Globe Forestry aims to be able to plant one million trees per day, to fulfill the goal written in the Mission to have planted 9 billion trees by 2044.
Post a Comment