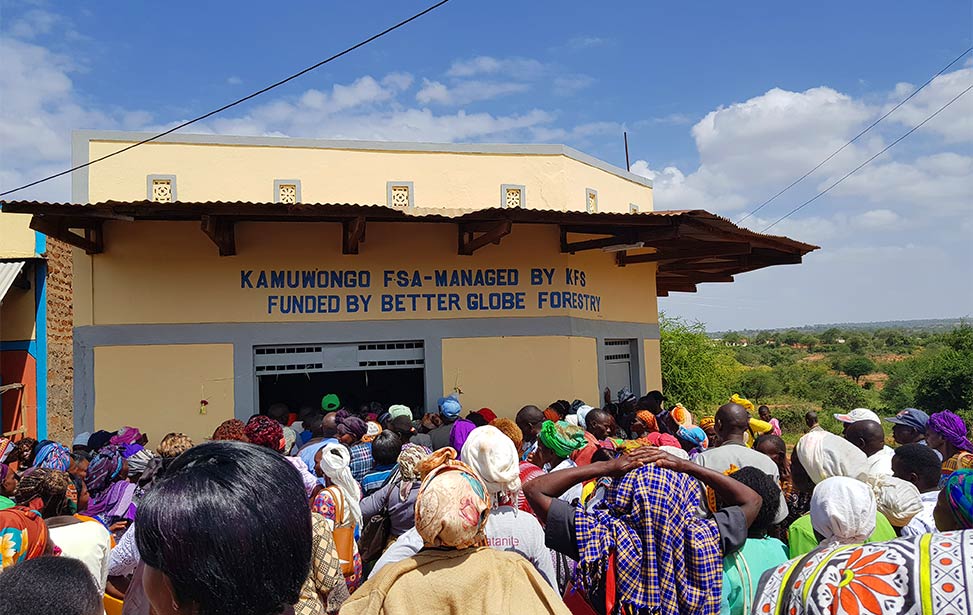 McRae Muthomi
Jan. 26, 2018
The end of last year was fantastic for Better Globe Forestry! A second microfinance bank was launched in Kamuwongo, a remote village in Mwingi district in the drylands of Eastern Kenya. Led by Better Globe Forestry's Managing Director, Jean-Paul Deprins and Executive Director of Forestry, Jan Vandenabeele, and the director of K-Rep Fedha Services Ltd (KFS), Emma Kimani, the launch was graced by over 600 local residents of Kamuwongo, all living in an impoverished area and facing challenges such as joblessness, illiteracy, poor health-care facilities, lack of water, and climate change.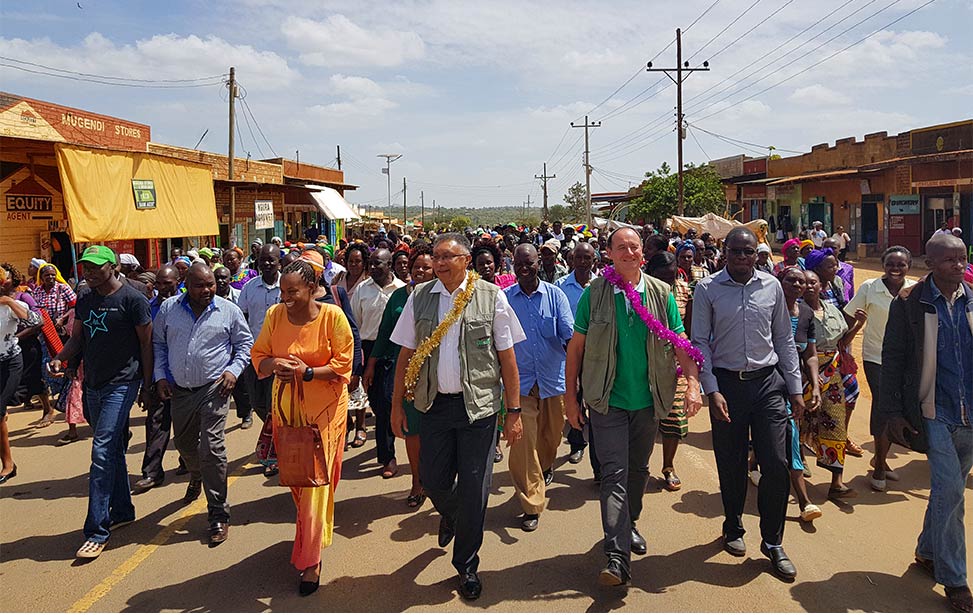 One of the most important functions of the village bank is as a learning institute, where often illiterate farmers are taught the principles of saving and are supported in a group setting, so that peer pressure helps them overcome their financial restraints. The old bank is in the Kasten, Mbuvu location in Eastern Mwingi. It has 4,000 shareholders where 60 percent have taken loans. The bank offers different types of loans, and this is only four of many:
solar panel loans
school fees loans
iron sheets loans
and investment in water infrastructure loans.
There are many types of loans, in different categories such as for business or improvement of living conditions (to buy livestock for fattening and selling, tools like sewing machines, loans for obtaining a driving license for motorbikes, furniture, etc. Most of the Financial Service Association (FSA) members have acquired solar panel loans that have greatly improved their lives mostly as an alternative for paid electricity to provide energy and lighting and for charging mobile phones. Most loan applicants are active farmers planting mukau and Acacia senegal.
Establishment of the village bank was fully funded by Better Globe Forestry through the Better Globe donation package. It is now functioning, registered as Kamuwongo FSA. The bank is aimed at offering micro-finance services to residents in order to lift them from poverty. It is now firmly established and growing fast with 879 savings accounts already opened. Most of its clients are partner farmers with Better Globe Forestry, though membership is open to any interested person. The village bank's management is being carried out by K-Rep Fedha Services Limited - a limited liability company established to provide management services and oversight to the FSAs.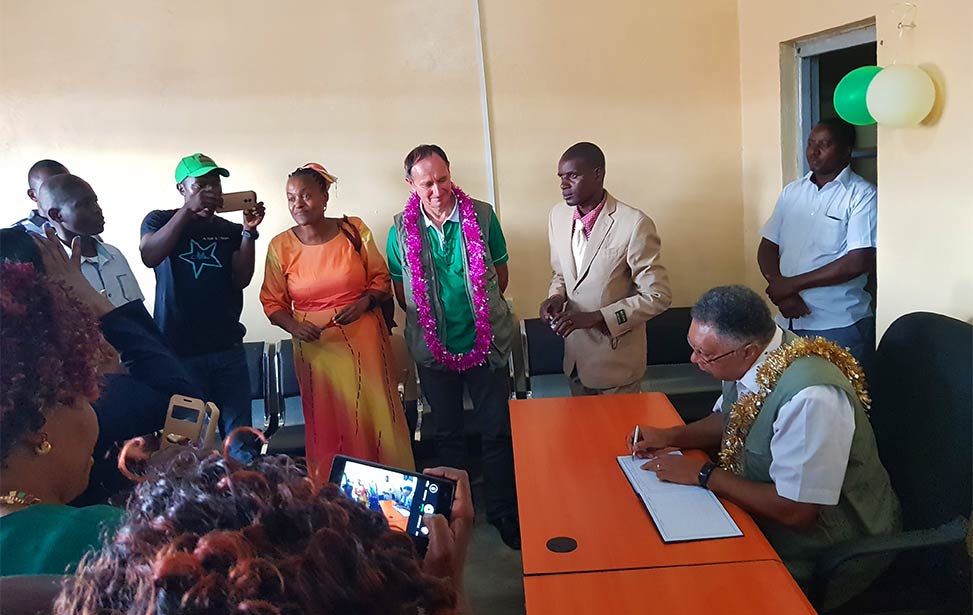 Better Globe Forestry's support though is limited in time. In order to let the village bank grow to an independent and sustainable financial institution, the support of Better Globe Forestry will be withdrawn after three years, after which the bank will stand on its own, fully owned by the shareholder and farmers, run by a professional team of KFS and overseen by a locally elected board of directors. The launch took place on December 14 and it is expected to help alleviate extreme poverty for the marginalized.
It was not the success of the first microfinance bank that led to the start of a new one, but that it has always been part of Better Globe Forestry's vision from the very beginning to eradicate poverty through establishment of microfinance banks and they will continue to expand. It wouldn't have been a success if Better Globe Forestry would have had to select another partner for this kind of intervention. It proved that our initial selection of a microfinance institution was sound. The village banks are part of Better Globe Forestry's vision of eradicating poverty. These microfinance institutions have been established by Better Globe Forestry and the farmers know this. Through the banks, they are able to access funds that can enable them to receive water, education, better living conditions, and other basic needs.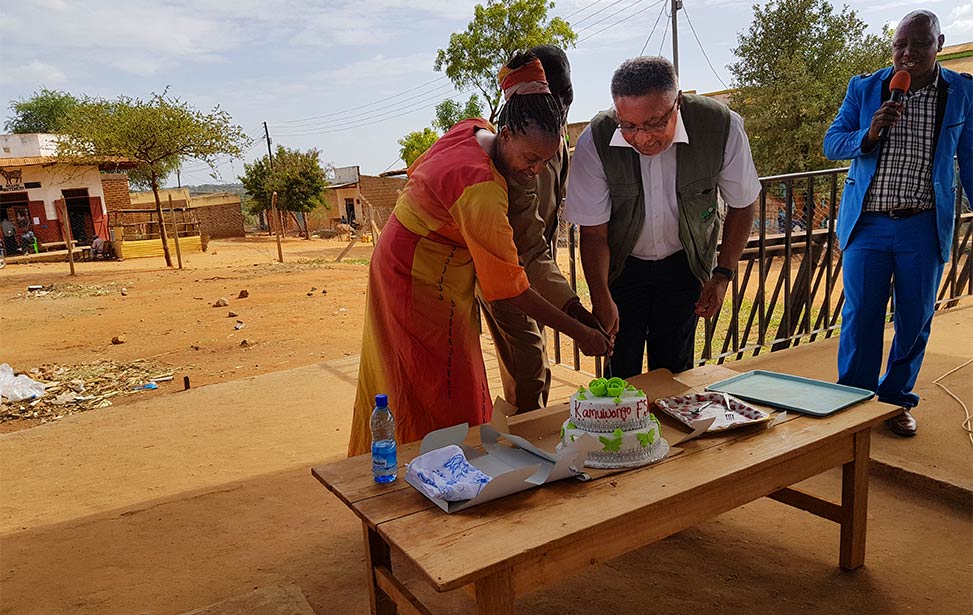 Post a Comment