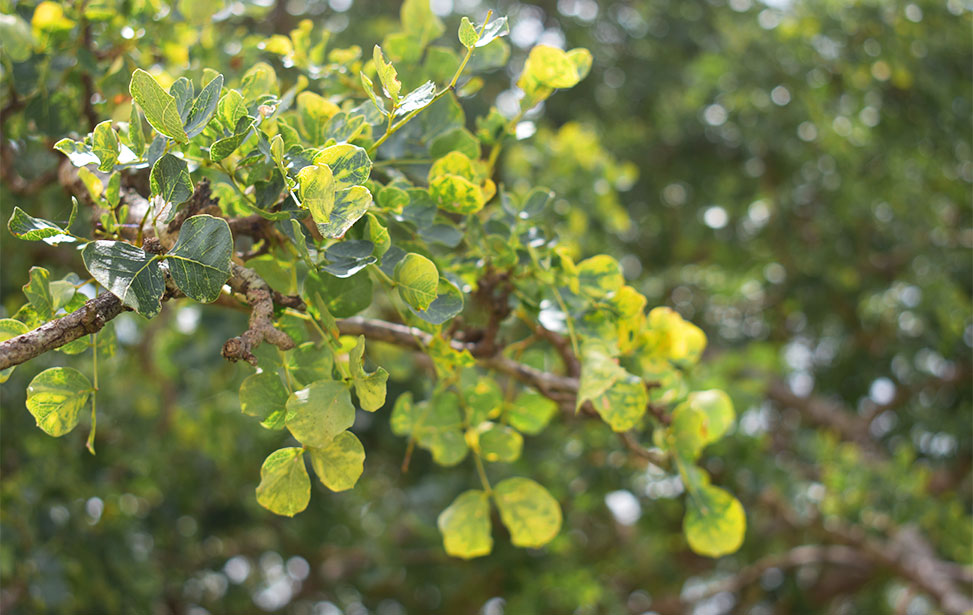 Certification
Safeena Kassoo
Apr. 19, 2020
Better Globe Forestry is working with the Forest Stewardship Council (FSC) Africa regional office to guide the company toward forest stewardship certification. Forest certification enables companies to access international markets (which have strict trade regulations) and raise forest management standards that promote compliance with laws and regulations at local, national, regional, and global levels. It also assures consumers that wood was legally harvested and sourced from a well-managed forest, and promotes workers' wellbeing and that of the community at large.
Better Globe Forestry aims to streamline operations in its forest management units while:
Looking at social, environmental, and economic aspects
Gaining premium prices and access to international markets
Ensuring its operation and products conform to international and national legal requirements
Improving working conditions and environmental conservation methods
In the future, Better Globe Forestry will export finished products, while ensuring the export of sustainably produced wood products that are acceptable in all markets.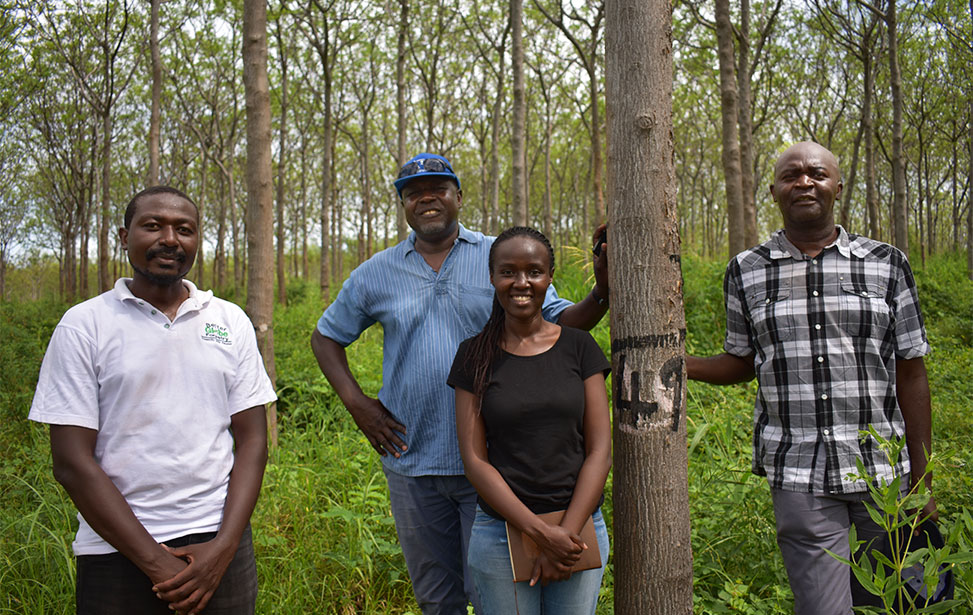 Better Globe Forestry Kiambere plantation assessment visit. From right to left: Harrison Kajwang (FSC Regional Director for Africa), Gladys Ruto (Better Globe Forestry intern), Paul Opanga (FSC Labour Issues Manager), Samuel Nakhone (Better Globe Forestry Deputy Director - Forestry)

Photo courtesy: Better Globe Forestry
FSC Africa is FSC International's representative in the African region. The regional office was established to better understand and service Africa's needs of the FSC system. It is responsible for the development of plans for areas where FSC is not represented in the region, supports countries in the development on National Standards and provides guidance on forest certification process and National Standard Development process. It also provides advice and support to organizations that are interested in forest certification and direct forest managers to accredited certification bodies
The concept of forest certification was introduced in the early 1990s by environmental groups following the failure of governments to reach consensus on a legally binding commitment on deforestation concerns during the Earth Summit in 1992. The concept was to develop a certifying and labelling system that focused on market acceptance as an enforcement mechanism to address deforestation, mainly in tropical forests.
To date, various certification systems have been developed worldwide, the main one being the FSC. These systems set standards that provide a framework to what is considered a responsibly managed forest by looking at social, environmental, and economic benefits of production forestry.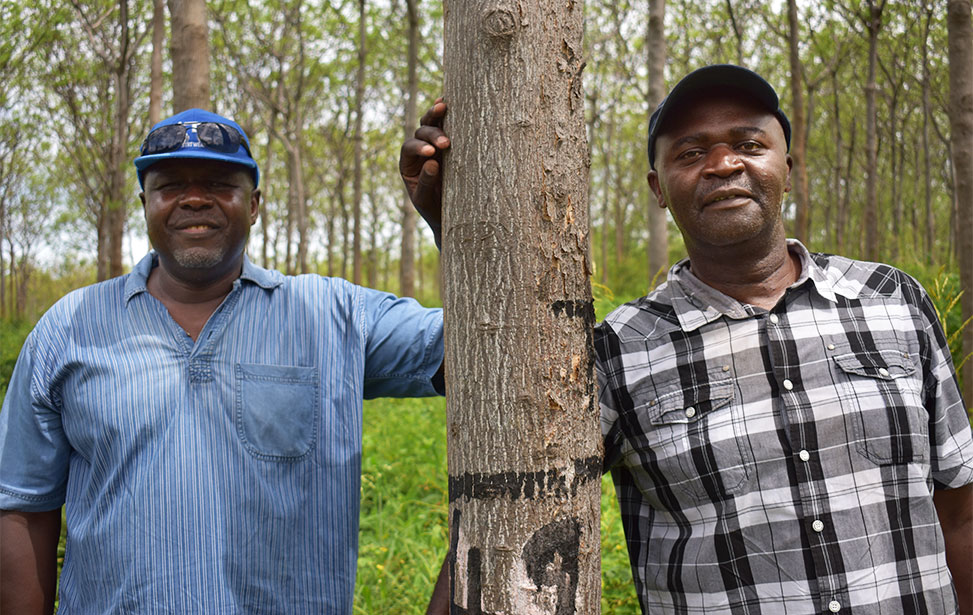 FSC Regional Director for Africa Harrison Kajwang (right) and FSC Labour Issues Manager Paul Opanga (left)

Photo courtesy: Better Globe Forestry
Better Globe Forestry is working toward certifying its forest management units and partner farmer systems, guaranteeing responsible forest management in operations and accomplishing our mission to eradicate poverty and corruption in Africa. Forest stewardship certification labelling assures consumers that our products come from environmentally responsible, socially beneficial and economically viable responsibly managed forests or from like-minded partner farmers.
Forest certification therefore promotes the use of forest products that have a smaller ecological footprint and creates opportunities for forest communities.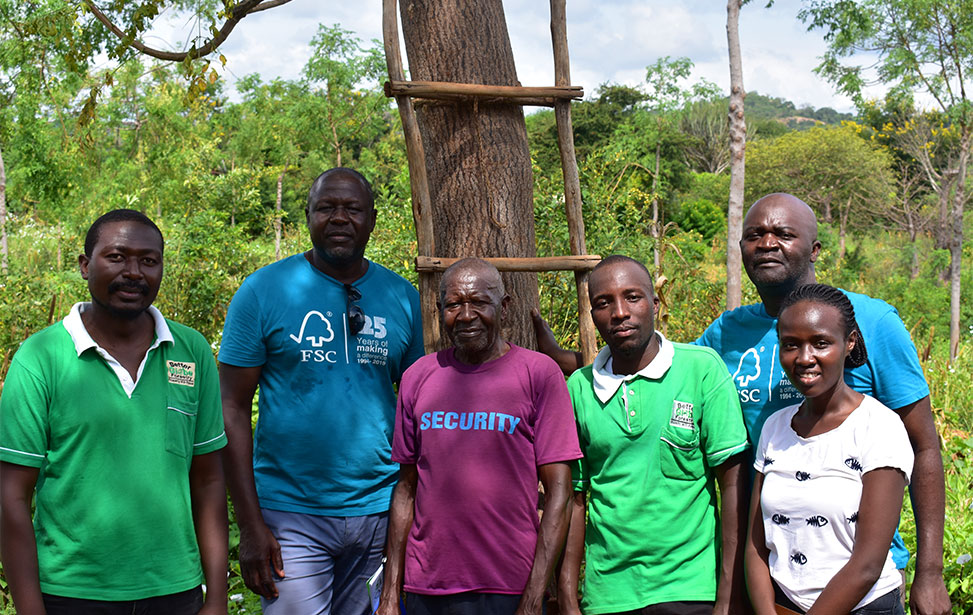 Pre-assessment farm visit in the process of implementing FSC standards. Present is David Kiilu (third from left), one of Better Globe Forestry's partner farmers.

Photo courtesy: Better Globe Forestry
Better Globe Forestry has its own procedures regarding operations, health, safety, etc. In that sense, the bulk of FSC's certification requirements are already in place. Nevertheless, everything will now be documented in a structured way that fits the certification process, with an emphasis on external periodic auditing.
When FSC established its offices in Kenya, they approached the Better Globe Forestry office knowing the company's knowledge of the Kenyan forestry environment. Recently, Better Globe Forestry was invited to a meeting to launch a business forum for certified wood and similar products in Kenya. This forum was the catalyst in convincing Better Globe Forestry to start its certification process, as part of a long-term strategic thinking in matters of market access for melia volkensii (mukau) products.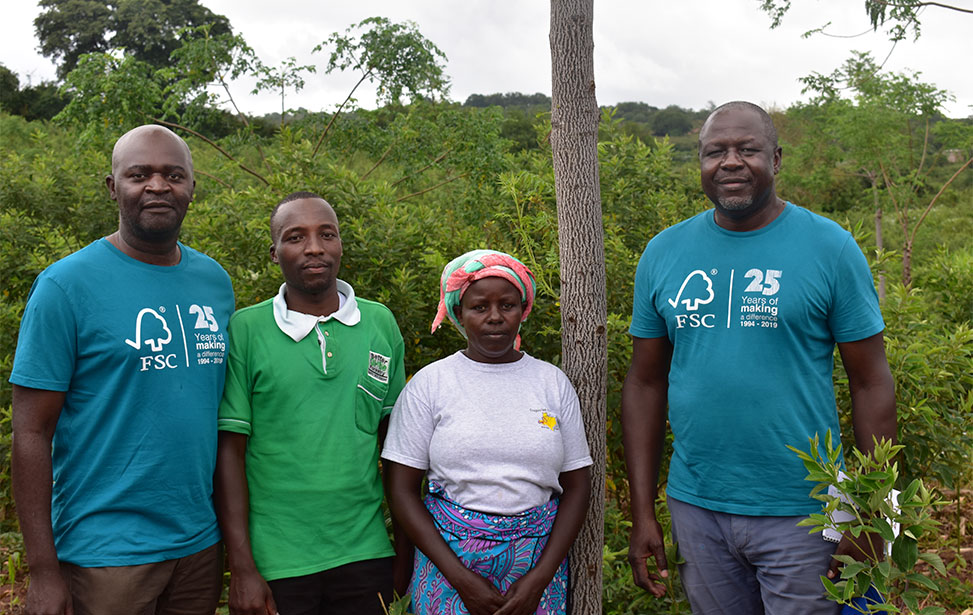 Sarah Mwatha Wambua Kiilu (third from left), one of Better Globe Forestry's female partner farmers.

Photo courtesy: Better Globe Forestry
FSC forest certification principles and criteria will improve the efficiency of Better Globe Forestry's operations and enable it to have full control of its production process. For an organization to be certified, they must demonstrate that they have fulfilled the standard requirements. Through certification, Better Globe Forestry will be certain to adhere to legal requirements, and ensure continuous improvement in the organization's working conditions and the health and safety of forestry workers, as well as the improvement of its conservation outcomes and community relations.
In the industrialized market, the acquirement of untraceable tropical timber is decreasing. There is high demand for evidence of legality and sustainability. Consumers are also aware of the forest situation in tropical regions and are more conscious about the products they purchase. Certification will allow Better Globe Forestry to tap into the market opportunities for hardwood in the international market, as it will demonstrate that its forest products are sourced responsibly.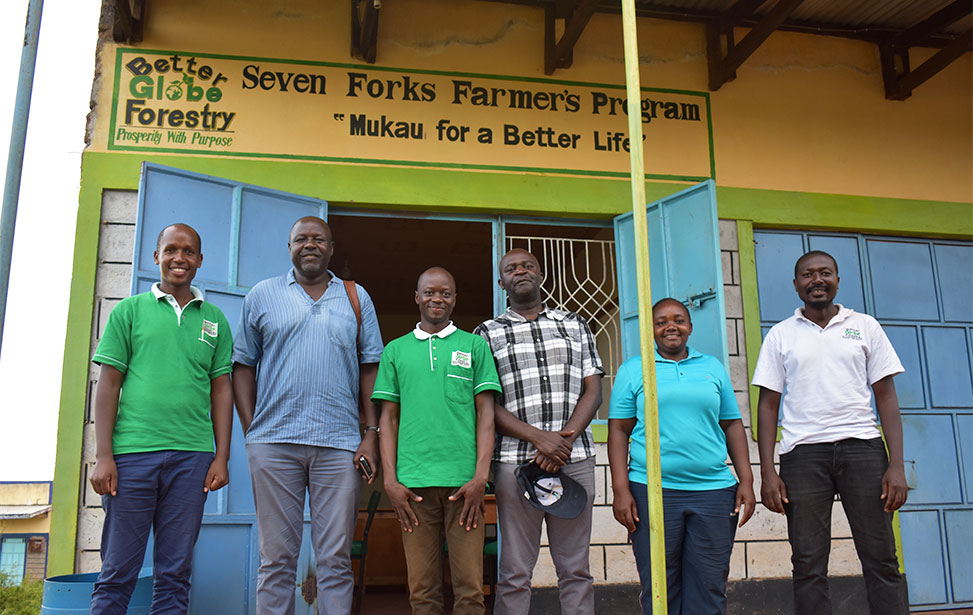 Top FSC representatives visited Better Globe Forestry Seven-Forks farmers program main office.

Photo courtesy: Better Globe Forestry
There are documented studies on the positive impacts of forest certification on forest operations particularly in the Asia-Pacific Region. In Malaysia and Indonesia, forest certification is documented to have positive environmental and social impacts in forest operations. In these regions, forest certification has reduced forest cover loss and air pollution and led to fewer malnourished people in communities living in and around forest concessions and a recorded greater mammal species richness.
The Better Globe Forestry model where we work both with our own plantations as well as with partner farmers is unique and innovative. We are certain that the blend of FSC requirements and the no-nonsense approach of Better Globe Forestry will benefit all stakeholders concerned with our projects.
Post a Comment