Safeena Kassoo
Sep 1, 2016
In the mid-2000s, Better Globe Forestry gained interest in trees that grow naturally in Kenya's arid and semi-arid lands: a local variant of mahogany, melia vulkansii ("mukau" in Kikamba, the local dialect), that produces beautiful red hardwood in 15 to 20 years' time. Since then, we have been working to improve the mukau species through a concerted research and development effort. We have collaborated with Ghent University in Belgium on an in-vitro multiplication method (tissue culture) to clone mukau seeds and accelerate the process. Until we have in-vitro facilities available for this process, we will continue to collect seeds with the help of farmers who still have superior (or plus) trees available on their land.
In the last decade we have planted hundreds of thousands of the mukau tree species on our plantations, that is well adapted to arid and semi-arid lands. These trees are critical to production as they have outstanding qualities that help them produce high-quality timber comparable to mahogany. What else makes mukau so special, and why is it a preferred species of Better Globe Forestry?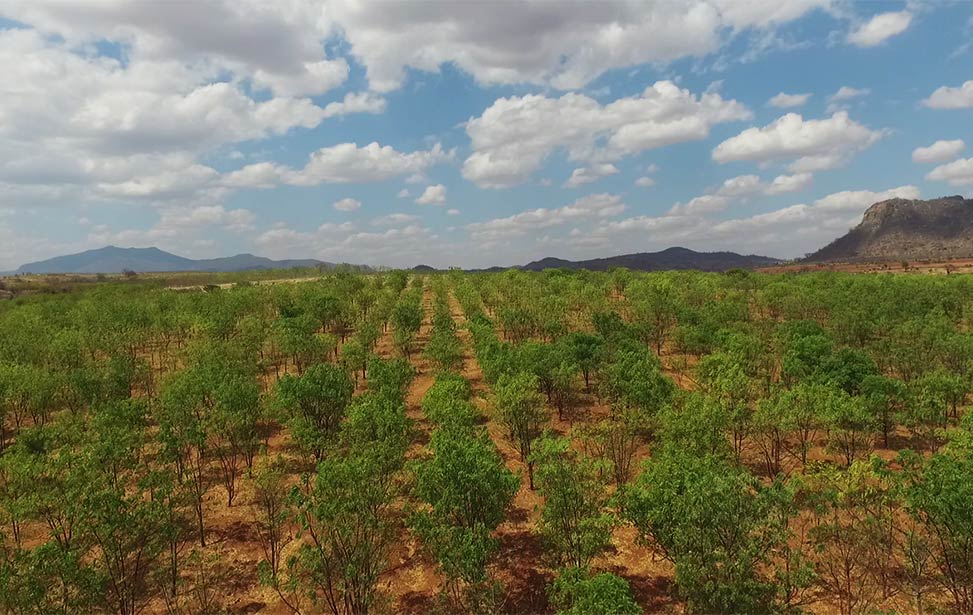 Mukau is an East African indigenous tree species that grows naturally in dry bush land or wooded grasslands, mostly in Eastern Kenya. This species in particular is resistant to termites and drought, and can be planted year round with the proper care and irrigation. It is also valued for its other benefits, including its use for high-quality hardwood that has the same characteristics as mahogany. Its beauty, durability, workability, and color emphasize its value and its use in the community.
Because of its value, a majority of the mukau population has poached and depleted, and any existing mukau trees in the wild are not valuable. Therefore the existing, high-quality mukau trees can only be found in the existing land of farmers and at Better Globe Forestry's plantations. By planting these trees, we are replenishing the environment that has been severely depleted of trees. And with our help, the farmers who handle mukau trees become familiar with its qualities — since it thrives in the conditions of their living environment — and are eager to plant mukau trees on their farms.
Better Globe Forestry works with the KEFRI, who became interested in the species in the 1980s during which they recognized its value. Researchers such as P. Milimo focused on developing mukau seeds into new trees in a nursery; others Iike Kidundo and Multaya were pioneers of mukau development, and their work put the species into focus. Better Globe Forestry has also conducted testing with KEFRI to measure the quality of our mukau trees with other hardwood trees in the market.
Mukau is also useful in its potential to positively influence other factors in the community. With the growth of new trees, a domino effect will occur with climate, income, eradication of poverty, better education, and better standard of living. Its relationship with the community is mutually beneficial; by planting mukau, farmers are able to take responsibility for a portion of trees, which can generate income over the years.
It is not always easy to find mukau, as their presence in the wild is limited. One of Better Globe Forestry's goals is to establish in-vitro multiplication labs to mass produce mukau seeds for our plantations and outgrowers. Development in these labs will help increase our efficiency and area covered by new tree growth, as well as contribute to the community.
Post a Comment