Jan-Tore Øvrevik
Sep 18, 2016
Creating an ecosystem that can survive
Small scale farmers struggle to survive in the drylands of Kenya. They live on red earth with dry bushes and wait for the next rain season to save their agriculture. If the rain season does not occur, then crops are lost. To survive, farmers may cut trees like acacia to make charcoal. The land gets more stripped of its vegetation and no one replants the trees that are chopped, charred or stripped by goats. Water runs off in gullies. Top soil is washed away, leaving rivers and dams into mud and sand. Is there any hope left for the remaining struggling farmers?
Better Globe Forestry's outgrower project allows some of the world's poorest farmers to supplement their small-scale farms with mukau and mango trees that grow naturally in Kenya's arid and semi-arid lands. The trees retain water, give shadow, protect against wind and enrich the soil for improved yields in an unforgiving, fickle climate. With trees, outgrowers can create an ecosystem that can survive and provide decent livelihoods for farmers and the community. If the farmer has a bad year with little rain, the food crops will dye, but the trees will sustain and survive.
How Samuel Looks at His Life as an Outgrower
Better Globe Media met Samuel Mulli in August 2015. He is a land owner, but employed by the government as a teacher at Mwingi school in Kenya, until he got in touch with Better Globe Forestry and became interested in their program to plant trees on his farm.
In this video interview, Samuel tells us his story as one of our outgrowers. He is one of 30 other farmers in the area who joined the outgrower program with Better Globe Forestry. He owns four hectares of land and because of us, he plants mango and mukau trees in addition to cash crops,*and his goal is to plant 6,000 trees on his land.
* A cash crop is an agricultural crop. Like corn and beans, which is grown for sale to return a profit.
Samuel tells us that Better Globe Forestry brought the idea to a group of farmers of how they could plant mukau and mango trees on their farms as a supplement to their cash crop like cowpeas and corn. The farmers already had the knowledge that mukau is a nurtured tree that grew in the area without planting and its ability to survive in harsh conditions. Earlier, people would ordinary cut and sell mukau trees that lived in the wild environment as timber to use locally for roofing and also sell them to other towns to make roofing and furniture. Since people cut the trees down for their value, there are no longer any mukau trees living in the wild environment. When Better Globe Forestry offered free tree seedlings, education and support on how to grow the trees, the farmers found the trade factor profitable in many ways as a bonus to their cash crops.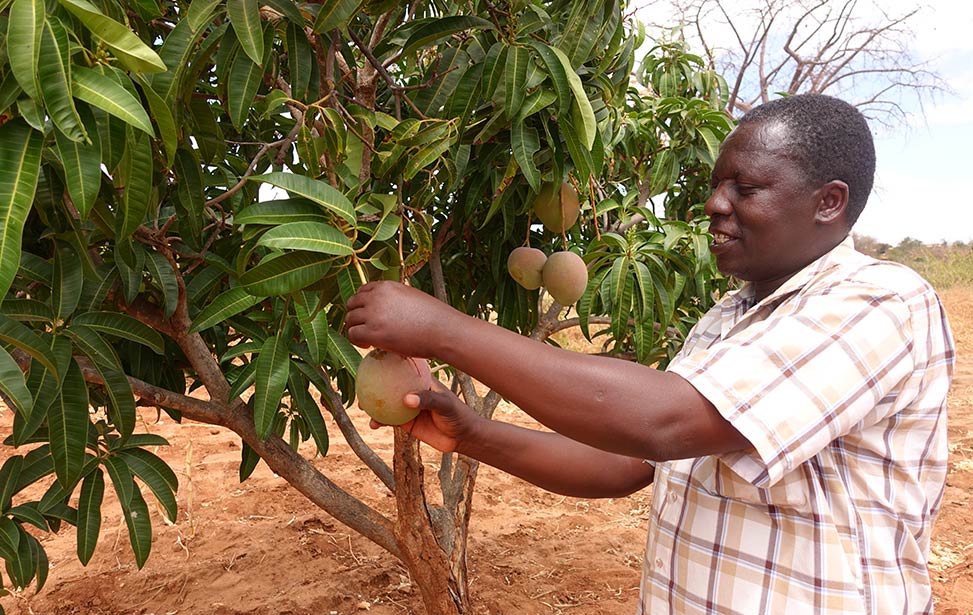 Samuel picked mangos from his trees for us to taste and they were heavenly sweet and juicy.

By joining our program, the farmers knew they would get money for the trees when they mature. Mango trees yield fruits at early stage, which they can sell and eat every year, while mukau has a future profitable value when cut. Trees can easily be integrated and planted into their land with normal cash crop activities, improving the environment with tree cover and assist in the problem against soil erosion.
Samuel does not look at planting trees as individual. He involves his wife and children so they can inherit the knowledge and profitability by being an outgrower and lead the way for the next generations to come.
A certified number of farmers has joined the program and look at the future as bright. The outgrower system helps the community around by employing people who can bring water, guards who can protect the farm from goats etc. With the improved economy, parents can afford having their children at school. Farmers can also apply and qualify for loans by using trees as assets when they reach about seven years, without cutting them.
Post a Comment