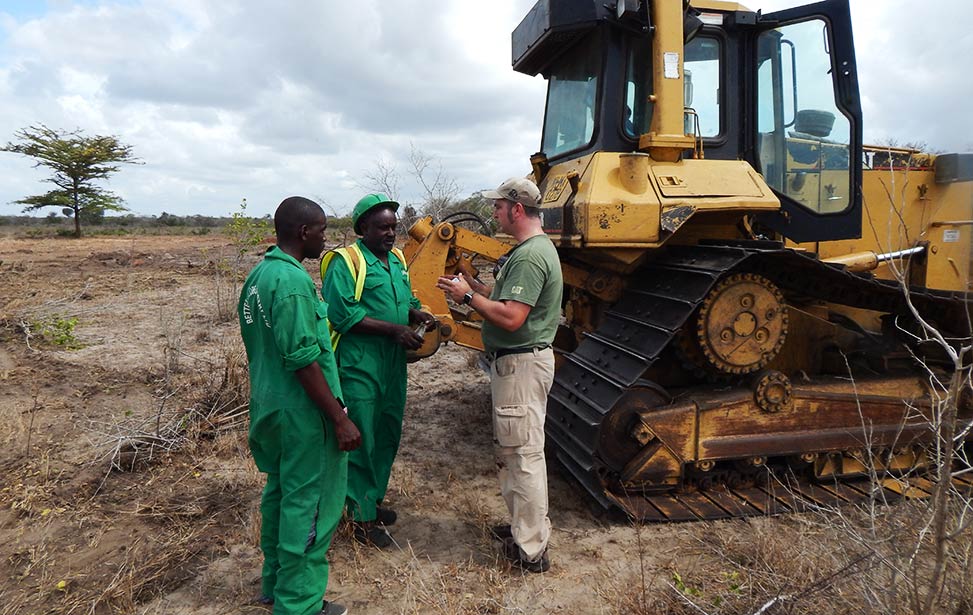 Bulldozer
Jan-Tore Øvrevik
Nov 29, 2016
Our Belgian friend, Pieter Quaegebeur, is a Senior Demonstrator and Instructor for Caterpillar in Belgium. We were lucky to have him at our Nyongoro plantation to share his knowledge with our bulldozer operators. We currently have one bulldozer in Kamburu and one in Nyongoro. Both are used to clear and prepare the land for planting trees, and to make roads for easier access. The bushes are cleared and also set up as walls against buffalos and other animals that we would not like to have as visitors.
Bulldozers need constant care. Because they do an extensive job, their parts and engine should be kept at a superior state to prevent frequent repairs. Repairs can be expensive, especially if the bolts on sprocket segments are broken. You need to dismantle a big part of the bulldozer just to be able to change the bolts. Aside from being expensive, repairing a bulldozer is also time-consuming.
Besides giving some valuable feedback on how to maneuver and handle the bulldozer, Pieter demonstrated how to service and maintain the engine and other moving parts. Some of the parts that need to be checked each day before using the bulldozer are: oils, grease, bolts, chains, undercarriage and engine. This will also ensure the parts won't get damaged while the bulldozer is in use.
The instruction manual for the bulldozer is heavy and has references to things that may not regard the daily operations. It was therefore welcoming for our team to take notes from Pieter about what needs to be followed up on daily, weekly and monthly basis. With a schedule for when to check the track links, the electrical system, tighten the bolts, etc., we increase the life span of our bulldozer and increase the chances of only having smaller repairs than big and costly ones.
Post a Comment